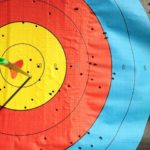 Heat Archery is now entering its 5th season and is growing each year!
We will be having a meeting for new archers on Saturday, December 16 at 12 pm at The Fellowship Church located at 490 Industrial Drive, Mount Juliet, TN 37122. At this meeting, we will provide all the details regarding the sport, practices, tournaments, and more.
Heat archery is open to home school students (boys and girls) grades 6-12. You do not need to have experience or equipment to be on the team. We shoot under the National Archery in the Schools Program (NASP) guidelines and participate in 3-4 tournaments each year in addition to the state tournament. The fee for participation is $150.
Due to various limitations, we can only have 40 archers to make up our middle and high school programs. We have quite a few returning archers from last year leaving us only 10-15 total available spots on the team this season. As a result, we will have to choose archers based on the numbers needed for both middle and high school programs with high school given more preference. Upperclassmen will be chosen first followed by each grade level down until we fill both roster.
We look forward to seeing you there.
Alan Vermilye
Jimbo Savley