Varsity Boys Basketball Team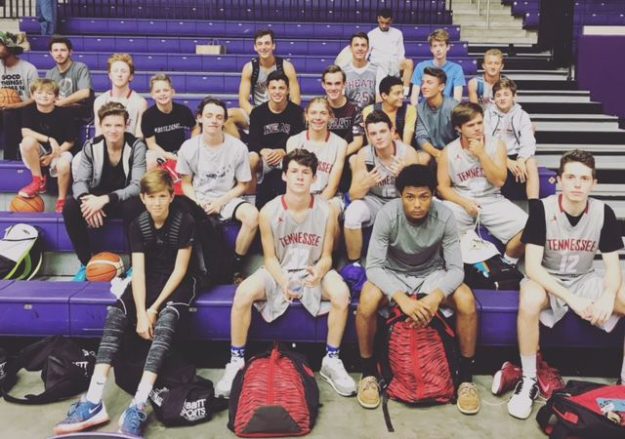 Our TN Heat Basketball Team had a very productive Summer Season. Went 7-2, with dominate wins over DCA, MJCA, Grace Christian, Lipscomb Academy, and Clarksville Academy to name a few. A solid foundation is in place for an exciting 2017-18 Season! Go Heat!!
---
The Tennessee Heat Basketball program is currently in its 10th season and has experienced incredible growth and success. Our middle school and high school teams compete to win, and do so while honoring and glorifying our Heavenly Father.
The mission of the Tennessee Heat Basketball Program is to excel on the court, achieve in the classroom, and positively impact our community.  We believe that intense skill development and preparation are vital to the success of our teams. We want to enhance skill and ability, while building character and helping each player achieve their goals and dreams on and off the court. If you are passionate about the game of basketball and interested in joining the Heat family, contact our high school Head Coach, Travis Kring at traviskring@hotmail.com. Go Heat!
Meet the 2016-2017 Varsity Players
2017 – 2018 Boys Basketball Season Schedule
| Date | Opponent | Time | Team | Results |
| --- | --- | --- | --- | --- |
| 11/03 - 11/05 | Tip-Off Tournament (Atlanta, Georgia) | | | |
| 11/14 | Lighthouse Christian | 6:00 pm | JV & V | |
| 11/17 | @ WKY Trailblazers | 6:00 pm | JV & V | |
| 11/20 | @ H'ville Royals | 6:00 pm | JV & V | |
| 11/28 | Bowling Green | 6:00 pm | JV & V | |
| 12/04 | Holloway High School | 7:00 pm | | |
| 12/05 | Christian Community | 7:00 pm | | |
| 12/15 | Highland Rim | 7:00 pm | | |
| 12/19 | D1 Academy | 6:00 pm | JV & V | |
| 12/28 - 12/30 | FCS Christmas Tournament | | | |
| 01/02 | @ Friendship Christian | 7:00 pm | | |
| 01/09 | @ Lighthouse Christian | 6:00 pm | JV & V | |
| 01/16 | WKY Trailblazers | 6:00 pm | JV & V | |
| 01/19 | @ Highland Rim | 7:00 pm | | |
| 01/23 | H'ville Royals | 6:00 pm | JV & V | |
| 01/25 | @ D1 Academy | 7:00 pm | | |
| 01/26 | @ Christian Community | 7:00 pm | | |
| 02/01 | @ Bowling Green | 6:00 pm | JV & V | |
| 02/06 | @ Boyd Christian | 6:00 pm | JV & V | |
| 02/20 - 02/24 | MTAC Tournament | | | |
Middle School Boys Basketball Team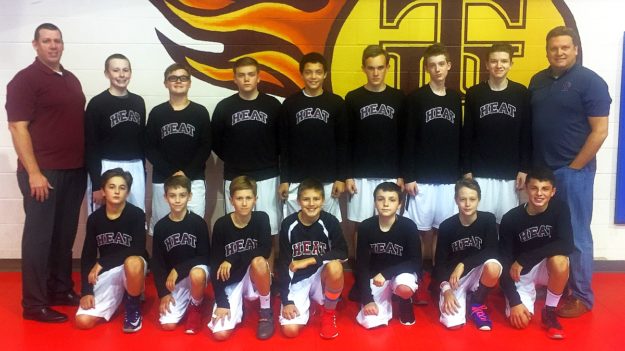 Front row: Jackson Youngs, Jacob Smart, Brandon Bural, Jason Glaskox, Keaton Sadler, Jackson Barfield, Adam Day
Back row: Coach Rusty Catlin, Davis Catlin, Ross Scott, Josh Dender, Jonah Randle, Jared Byrum, Zack Cook, Bryce Bollinger, Coach Jim Schaetz
2017 – 2018 Middle School Boys Basketball Schedule
| Date | Location | Time | Opponent | Results |
| --- | --- | --- | --- | --- |
| 11/03 - 11/05 | Atlanta, GA | All Day | Tip-Off Tournament | |
| 11/14 | Home | 6:00 pm | Lighthouse Christian | |
| 11/17 | Away | 6:00 pm | WKY Trailblazers | |
| 11/20 | Away | 5:00 pm | H'ville Royals | |
| 11/28 | Home | 5:00 pm | Bowling Green | |
| 12/04 | Away | 5:00 pm | F.H. Jenkins | |
| 12/05 | Home | 6:00 pm | Christian Community | |
| 12/15 | Home | 5:00 pm | Highland Rim | |
| 12/19 | Home | 5:00 pm | D1 Academy | |
| 01/09 | Away | 5:00 pm | Lighthouse | |
| 01/16 | Home | 6:00 pm | WKY Trailblazers | |
| 01/19 | Away | 5:00 pm | Highland Rim | |
| 01/23 | Home | 5:00 pm | H'ville Royals | |
| 01/25 | Away | 5:00 pm | D1 Academy | |
| 01/26 | Away | 6:00 pm | Christian Community | |
| 01/30 | Home | 6:00 pm | F.H. Jenkins | |
| 02/01 | Away | 5:00 pm | Bowling Green Christian | |
| 02/15 - 02/18 | | | MTAC Tournament | |
Boys Basketball Video Highlights