Varsity Boys Basketball Team
---
***New Gym Location***
All Heat home games will be played in a new location this year! Please come out and cheer on your Heat Basketball team at our new home, Smithson Craighead Academy. The address is: 730 Neelys Bend Road in Madison!
NEW COACH ANNOUNCEMENT
We're happy to announce that our new basketball coach for the Tennessee Heat is Lemuel Dozier. He'll be leading both our high school and middle school boys basketball teams.
The Tennessee Heat Basketball program is currently in its 12th season and has experienced incredible growth and success. Our middle school and high school teams compete to win, and do so while honoring and glorifying our Heavenly Father.
The mission of the Tennessee Heat Basketball Program is to excel on the court, achieve in the classroom, and positively impact our community.  We believe that intense skill development and preparation are vital to the success of our teams. We want to enhance skill and ability, while building character and helping each player achieve their goals and dreams on and off the court. If you are passionate about the game of basketball and interested in joining the Heat family, use our online contact form for questions. Go Heat!
2018 – 2019 Boys Basketball Season Schedule
| Date | Opponent | Location | Team | Time |
| --- | --- | --- | --- | --- |
| November 2-3 | Tip Off Tournament | Atlanta, Georgia | MS, V | TBD |
| Noveber 19 | Hendersonville Royals | Away | MS, JV, V | 5pm, 6pm, 7pm |
| November 29 | Daniel 1 | Away | MS, JV, V | 5pm, 6pm, 7pm |
| November 30 | Chattanooga Patriots | Home | MS, JV, V | 4:30pm, 5:30pm, 7pm |
| December 6 | Highland Rim | Away | MS, V | 5:30pm, 6:30pm, |
| December 10 | Hendersonville Royals | Home | MS, JV, V | 5pm, 6pm, 7pm |
| December 14 | Lancaster Christian | Home | MS, JV, V | 5pm, 6pm, 7:15pm |
| December 17 | NCC Warriors | Home | MS, JV, V | 5pm, 6pm, 7pm |
| January 8 | NCC Warriors | Away | MS, JV, V | 5pm, 6pm, 7pm |
| January 11 | CCA-Huntsville | Home | MS, JV, V | 5pm, 6pm, 7pm |
| January 15 | Western Kentucky Blazers | Away | MS, V | 5pm, 6pm, 7pm |
| January 17 | Daniel 1 | Home | MS, JV, V | 5pm, 6pm, 7pm |
| January 18 | Chattanooga Patriots | Away | MS, V | 6pm, 7pm EST |
| February 2 | Western Kentucky Blazers | Home | MS, V | 6PM-MS, 7 PM-Varsity |
| February 2 | LCA-Huntsville | Home | MS, V | 3 PM-Varsity, 4 PM-MS |
| | | | | |
| February 9 | CCA-Huntsville | Away | MS, JV, V | 11am, 12pm, 1pm |
| February 9 | LCA-Huntsville | Away | MS, JV, V | 3pm, 4pm, 5pm |
| February 14-16 | MHAC Tournament | Welch College | MS, V | TBD |
Middle School Boys Basketball Team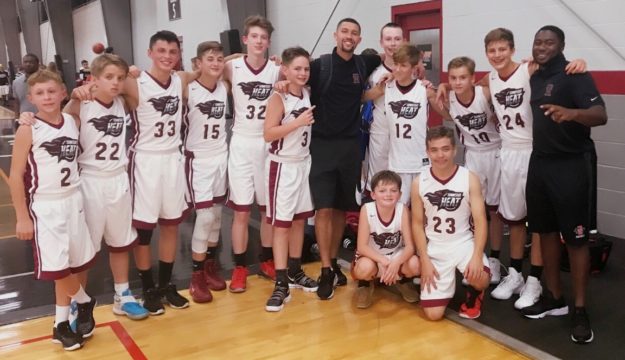 Boys Basketball Video Highlights