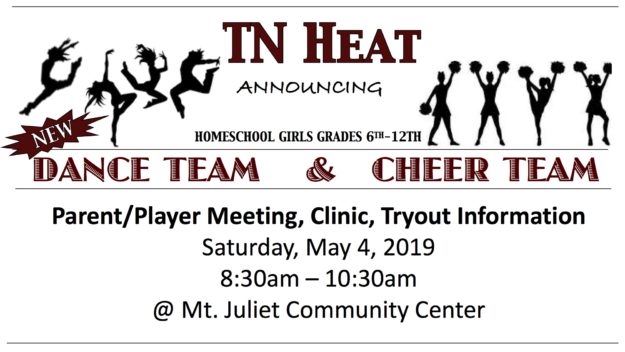 We are pleased to announce the launch of our NEW HEAT DANCE TEAM. The Heat Cheer Leading program will continue to run in conjunction with the new Dance team, allowing young ladies to both cheer and/or dance for the Heat throughout the 2019/20 season.
I will be holding a Parent/Player Meeting and Clinic for interested girls that are homeschooled and will be entering grades 6th-12th. Here you will learn all the information regarding our upcoming season including practice times, fees, tryout information, etc. The free clinic will be a time for girls to get instruction on things to practice on at home for their upcoming tryout.
Parent/Player Meeting and Clinic
Saturday, May 4th
8:30am – 10:30am
@ Mt. Juliet Community Center
*(Parents will be free to leave after our meeting during the clinic portion. Parent must sign release form at check-in.)
The mission of the TN Heat Cheer and Dance Teams is to provide a memorable experience that teaches the art and skill of cheer leading and dance, while keeping Christ at the center of everything we do. We will encourage team work, discipline, hard work, and commitment which will lead our young ladies to perform and live with integrity and class.