We are pleased to announce and introduce our new Head High School Football Coach, Corey Sanders and our new Head Middle School Football Coach, James Shannon.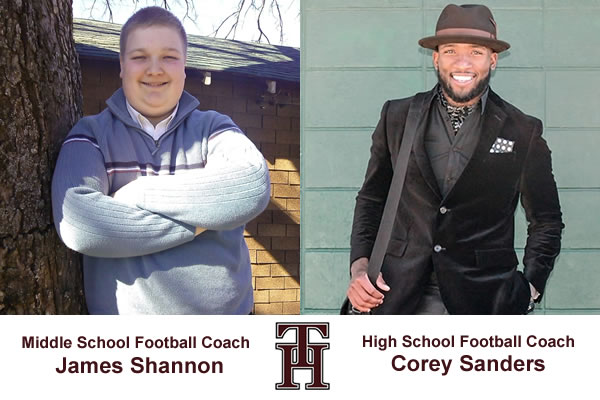 As a homeschool sports organization dedicated to offering opportunities to grow in Christ through the platform of sports, we are making plans to take our football program to a whole new level. We have been overwhelmed by the number of qualified candidates who have offered to lead this important effort. It is clear that God has presented two men that are uniquely qualified to take on this assignment. Below is a short message from Corey about his plans for next year:
"I am so excited to be the new Head Coach for the Tennessee Heat Football Program! It is my goal to make Heat Football the very best option for every homeschool athlete in Middle Tennessee. I know that I cannot do it alone, so please make plans to join me in making this goal a reality. Heat football will no longer just be a game, but will become a way of life. I'm devoted to helping each player become the best they can be as they grow into the young man God created them to be. I have been blessed to play football at a high level with championship teams and professional playing experience. My hope is to use these experiences and my passion for the game of football to positively impact my players and provide an experience they will never forget. It is my prayer that many of you will trust and follow my leadership as I seek to invest in the next generation of Christian leaders. Together, we can truly BRING THE HEAT!!!" ~ Corey Sanders
We will be introducing James Shannon on March 6th at our home basketball game at Hermitage Church of Christ and will also introduce Corey Sanders the following night at our home game on March 7th. Please make plans to come meet them and their wives and support our Heat basketball team. We will be announcing a player/parent meeting to offer more information about Spring Football and the 2015 season very soon.
In Christ,
Ryan Scott
Director of Ministry
Tennessee Heat Sports