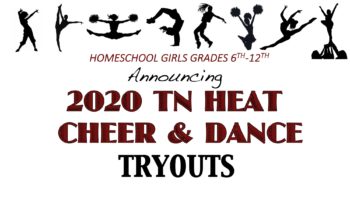 2020 TN HEAT CHEER & DANCE TRYOUTS
The TN HEAT is seeking CHEERLEADERS & DANCERS for the upcoming 2020 season! Homeschooled ladies that will be entering 6th-12th grades are invited to audition! Please Click on the following links for Heat Cheer/Dance Info, Practice Schedule, & Audition Application. This year all tryouts will be completed via video submission. Note that the 2020 Heat Info Sheet (attached below) holds important instruction on how to find the required audition material, as well as, when/where to submit your audition videos.
The mission of the TN Heat Cheer and Dance Teams is to provide a memorable experience that teaches the art and skill of cheerleading and dance, while keeping Christ at the center of everything we do. We will encourage team work, discipline, hard work, and commitment which will lead our young ladies to perform and live with integrity and class.
If after reading the linked information you have questions, please contact Coach Kristi Scott at CoachKristiScott@gmail.com.