TN Heat Volleyball is headed into its 10th season in 2019. Since the beginning, the team has made its mark in the Middle Tennessee Athletic Conference competitively placing in the top four for both middle school and varsity teams at the MTAC end of season tournaments each year—with a second place finish in 2017 for middle school and a second place finish for varsity in 2013. Varsity players have been honored each year with being named on the MTAC Regular Season All-Conference Team as well as MTAC All-Tournament Team.
TN Heat Volleyball is lead by Head Coach, Kacee Fausset, who heads into her 8th year coaching with the TN Heat Volleyball program. As a former player of many sports, her experience and competitive spirit now feed into the players she coaches. Continuing the Heat tradition of character building and encouraging Biblical values in the hearts of the players are key components to her coaching style. "Competitive sports is a wonderful platform to encourage and foster a love for the sport of volleyball and most importantly a heart for Christ," Coach Kacee explains.
"My goal has always been to work along side the parents and families to help guide the girls towards Biblical principles each time we meet, whether on the court or outside the gym. I am not perfect in what I do, but I love these girls and believe they walk away knowing that each day."
The Tennessee Heat volleyball program is pleased to have Kelly Morgan as an Assistant Coach for the high school team for her third year with the Heat. Kelly is a former volleyball player, outside hitter, as well as having three previous years of volleyball coaching experience with elementary age girls. Kelly's motto: "Everyone makes mistakes. It is what you choose to do afterwards which defines your character." Kelly's experience is a great asset to the Heat volleyball program and her encouraging spirit is invaluable.
TN Heat Volleyball plays home games at the Smithson Craighead Academy in Madison, Tennessee.  Come support your TN Heat teams as they head into their season anticipating another exciting year of competitive matches.
2019 Tennessee Heat Homeschool Volleyball Team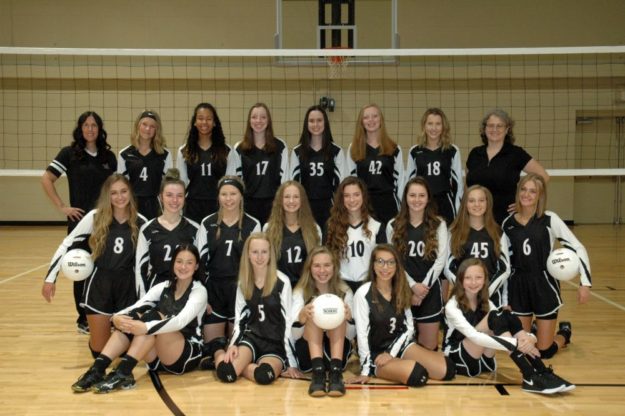 2019 Volleyball Schedule  (Download in PDF Format)
  Date

Time

Opponent / Location

August 29
Thursday
5:00pm
6:00pm
HS JV @ Christian Community School
HS VAR @ Christian Community School
September 5
Thursday
5:00pm
6:00pm
HS JV @ Daniel 1 Academy
HS VAR @ Daniel 1 Academy
September 6
Friday
5:00pm
HS VAR vs Academy for G.O.D.
September 12
Thursday
5:00pm
6:00pm
HS JV vs United Christian Academy
HS VAR vs United Christian Academy
September 13
Friday
5:00pm
6:00pm
HS JV vs Highland Rim Academy
HS VAR vs Highland Rim Academy
September 17
Tuesday
5:00pm
HS VAR @ Academy for G.O.D.
September 20
Friday
5:00pm
6:00pm
HS JV @ Bowling  Green Christian Academy
HS VAR @ Bowling Green Christian Academy
September 24
Tuesday
5:00pm
6:00pm
HS JV vs Daniel 1 Academy
HS VAR vs Daniel 1 Academy
September 26
Thursday
5:00pm
6:00pm
HS JV vs Christian Community School
HS VAR vs Christian Community School
October 3
Thursday
5:00pm
6:00pm
HS JV @ Highland Rim Academy
HS VAR @ Highland Rim Academy
October 4
Friday
5:00pm
6:00pm
HS JV @United Christian Academy
HS VAR @ United Christian Academy
October 11
Friday
5:00pm
6:00pm
HS JV vs Bowling Green Christian Academy
HS VAR vs Bowling Green Christian Academy
October 22-26
TBD
HS MTAC Volleyball Tournament
Home Games – Smithson Craighead Academy, 730 Neely's Bend Road, Madison, TN