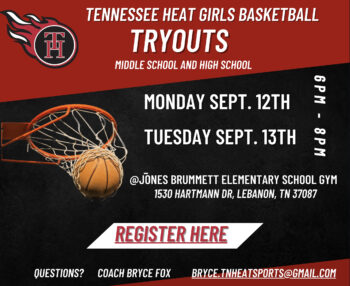 🏀TENNESSEE HEAT GIRLS BASKETBALL TRYOUTS
• Monday & Tuesday, September 12 & 13 (can come to one night, but both is encouraged)
• 6-8 pm
• @Jones Brummett Elementary School (NOT our home gym) 1530 Hartmann Dr, Lebanon, TN 37087
• Middle school & High School
• If your daughter is wanting to come to tryouts to play basketball this season, please click where it says "Register here" on the graphic. It will take 2 minutes.   Thanks, we look forward to seeing you there.
Google Doc's Registration Link
🏀
Contact Coach Bryce Fox for more information: (615) 289-7174