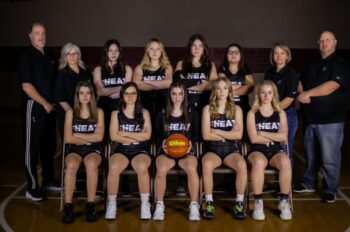 Our story for His glory…
This past season the Tennessee Heat re-launched it's Lady Heat basketball program after a six-year hiatus. We feel like the Lord was in it from the beginning and have adopted the phrase "Our story for His glory"
Here is a bit of our story…
In early October 2021 a cross-town basketball program suddenly had to pull the plug on fielding a team for the season. There were three girls from that team who still had a fire in them and wanted to play. They connected with a coach associated with the Heat and an idea was born.
Typically, teams in our area are start practice in early October to prepare for games in early November. By now it was toward the end of October…Time was ticking so we had to move fast!
After a short time of recruiting, 10 girls showed up to the first practice. Only a few girls had ever played organized basketball before, which made for a challenging start to the season. But these girls had an internal fire and began writing their story.
We lost our first 5 games of the year and most by over 20 points. The girls worked hard and learned quickly. We won 6 or our next 7 games and by the end of the season every team to which we had lost when we played them again, we beat them. By the end of the season, we were 2nd in our conference and advanced to the Championship Game in our division and tournament bracket at Nationals in Springfield, MO, where we lost by only 4 points.
We spent our season writing our story…Our story for His glory. We strive at each practice and game to give our all and to represent Jesus well. But this is just the beginning…