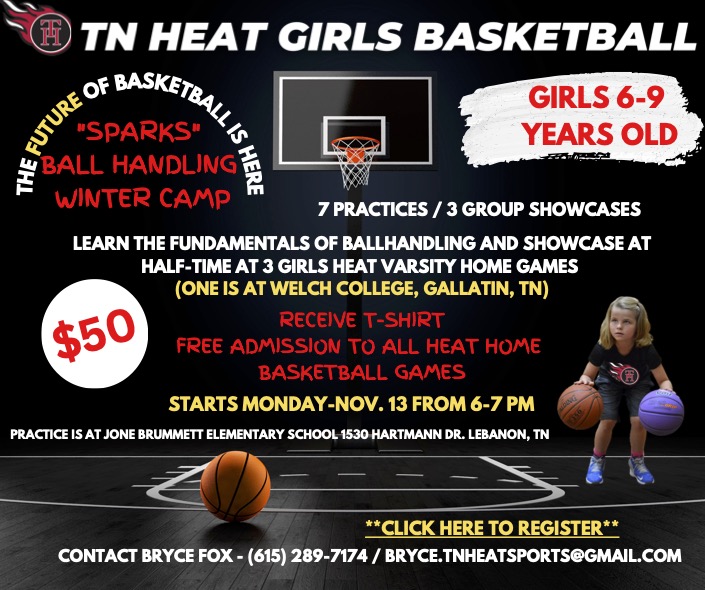 The TN Heat Girls Basketball program presents…
"SPARKS BASKETBALL WINTER CAMP"

***ATTENTION – GIRLS AGES 6-9***
WHO:
Homeschool girls ages 6-9
WHAT:
TN Heat Girls Basketball presents: "SPARKS BASKETBALL WINTER CAMP" Introducing girls to the fundamentals of basketball ball-handling with the opportunity to showcase their work at half-time at 3 TN Heat Girls Basketball home games. One showcase will be at Welch College in Gallatin, TN.
HOW MANY:
7 one hour practices and 3 group showcase performances.
WHEN:
• Practices: all on Mondays from 6-7 pm
• Showcases (TBD)
WHERE:
• Practices from 6 – 7 pm @ Jones Brummett Elementary School (1530 Hartmann Dr. Lebanon, TN)
• Showcases are @ First Baptist Church (227 E Main St, Lebanon, TN) and @ Welch College (1045 Bison Trail, Gallatin, TN)
COST:
$50 – This covers insurance, t-shirt, and free entry into ALL Tennessee Heat HOME games (for the player).
QUESTIONS:
Contact Coach Bryce Fox at 615-289-7174 or email at Bryce.TNHeatSports@gmail.com
We'll see you starting MONDAY, NOVEMBER 14 at 6 pm at Jones Brummett Elementary!!
Let's go HEAT!! "SPARKS BASKETBALL WINTER CAMP" is going to be AWESOME!!!